The world's unsung solder supplier is building a business for the ages.
A few minutes before noon, the cafeteria starts to fill with dozens of workers, blue collar and white, some in business casual wear, others in their factory blues. The volume begins to rise, a cacophony of sounds and languages, English and French, spoken in an endless variety of flavors.

Within an hour, the room falls quiet again as the staff resumes its roles inside the vast manufacturing facility that doubles as the global headquarters of AIM.

The melting pot culture of AIM is probably the least well-known aspect of what might be the least well-known large solder supplier in the electronics industry today.
Founded in 1936 as American Iron and Metal, the company has its roots in metals recycling and reclaim. Now a subsidiary, AIM's solders business was formed 22 years ago, and was spun out in 2007. It maintains the same ownership as AIM, though each unit is a separate legal entity. Ricky Black, the 40-something grandson of the founder, heads AIM Metals and Alloys, which has manufacturing sites in Canada, China, the US, Mexico, Hong Kong, Spain, Italy and Australia.

The Montreal headquarters is situated on a massive campus that stretches more than two miles from front to back, where a set of rail sidings slides right up to the door. While Montreal is considered home to the company's extensive bar, wire and solder paste operations, AIM also maintains mixing and blending operations in the US and Hong Kong.

Heading up the technology side is Karl Seelig, a 30-year veteran of electronics materials. Seelig came aboard in 1988 to help launch the electronics solders business. His imprint on the company's solder product lines can be seen everywhere, from the formulations to the equipment used to make the powders.

The plant tour begins in the core wire area. There, workers start with 15mm or smaller wire, which is then reduced in diameter using an extrusion press (AIM has five on site). Core wire operations also take place in Mexico, China and Europe. (Because of the large volumes, AIM makes core wire in fewer places than other solder types.)

We pass the metal castings area, where three continuous casters labor in a humidity- and temperature-controlled room pressurized for fume extraction.

From there, we walk past several drums of butyl carbide to the lab where AIM makes its paste medium. Using dedicated mixers for water-soluble, cored wire and no-clean, operators weigh the bucket to get the precise weight; even a slight deviation could ruin a batch. The powder press is truly impressive: Molten metal pours into a dish; solder falls into the chamber, then onto a screen, then to the atomizer. It's a three-story process. An oxide "skin" forms; a thin skin is needed on every layer. Powder is exposed to atmosphere for about one hour, then vacuum packed with gas and labeled. Yields are about 70%, very high for electronics grade solders. Paste is made in a 45% RH dry room. Each lot is tested for corrosion, electromigration, thermal cycling and SIR, among others. "Everything has to be tested," Seelig notes. While AIM is a leading supplier of bar solder, many would be surprised at the volume of its paste business. Combined, the total revenues from the two segments easily place AIM among the five largest electronics solder suppliers in the world. "The ratio of bar to paste is lower than five years ago. The industry doesn't realize how much we do in paste. Maybe it goes with our understated personalities," deadpans Black.

AIM uses standard blenders with automatic controls designed to be programmed, but that cannot be adjusted by operators. All paste is made to order, and alloys and formulas tend to be the outgrowth of face-to-face discussions between Seelig and AIM's marketing staff with OEMs and EMS firms. Inventories are kept low, with a few emergency stocks of common types.

The liquid flux is made in an explosion-free room. All flux chemistry is designed and made in Montreal. (Chemistry is the main expense in R&D; the cost to develop an alloy is relatively low. Changing it, however, is a long, drawn-out process, Selig allows.) We also see a small SMT epoxy room with a mill for different pigments.

The ISO 9001 registered, ISO 17025 compliant Quality Assurance lab is bright and clean, with a new Thermo Fisher Quant x-ray and a Thermo Electron 3460 metals analyzer, among other gear. AIM performs arc-spark testing to check for all standard impurities, with tests run to IPC specifications and multiple others. More than 1,000 samples per month are analyzed. Montreal is one of three company labs; others are in China and Mexico.

Most customers look at particle distribution, so that's a standard item for the lab review. In-house software assesses some 45,000 particles, checking width, length, diameter and so on. Every tank is sampled multiple times; then a chemical analysis is performed to ensure the barrel is satisfactory. All electronics grade solder is made from virgin metal. Reclaimed material is reserved for industrial use only.

The applications lab features a DEK printer, Quad placement machine, Heller 1500 reflow oven, CRT CRX-1000 x-ray and Koh Young 3020T SPI. Tests are conducted using electroform, lasercut and nanostencils.

R&D is performed in Montreal, Rhode Island and China, while tech support centers are based in India, Singapore, Philippines, Mexico, North America, Europe and China. In Montreal, AIM maintains separate labs for various types of paste, cored wire and testing, and each chemist has their own specialty. (Similar labs are set up in Mexico and China.) AIM also provides adhesives, but they are not big sellers.

All paste is made to order. Inventories are kept low, with a few emergency stocks of common types. Prior to shipping, every package is scanned with an XRF to ensure it's the right formulation.

Supply Local, Supply Global

Over the past 10 years, supplying solder has been a tricky business. The RoHS Directive permanently rerouted the industry direction, causing a disruption in pricing that is felt to this day. Solder is, of course, one of the lower items on the bill of materials totem pole. Unlike most raw material prices, precious metals are in a sustained period of inflation. Despite this – because of it, in fact – solder vendors do not capitalize. Indeed, most find the higher metal prices make their market more treacherous: Customers sometimes balk at paying more; vendors pay cash for raw metal, and it may take 100 days or more to turn that metal into solder and get paid by a customer, so the higher raw metal prices increase the supplier's risk and cost of doing business; the cost to reclaim dross increases.

"Higher metals prices don't necessarily work in our favor," says Black. "Take SAC: The silver price is more than the tin," even though silver is a minor element by weight in the SAC formula. "We don't make our money on the metal, but on the things we do to it."

AIM not only does a lot of "things" to the metal, it does those things in a lot of places. Perhaps owing to its aforementioned understated approach, AIM is considerably larger than most in the industry realize. Its breadth is a byproduct of its supply strategy, which assumes even larger accounts want local service. "If we didn't supply locally, we wouldn't be able to supply globally. It's a consumable product; people run out," Black explains. "The way to do that is to have your own facilities."

With 12 sites up and running, AIM doesn't see an end yet in sight. Black says he's "almost convinced" more facilities will be erected, although he doesn't yet know where. "It also depends on what the market wants to consume," Seelig adds, pointing to the logistics of the supply chain. "We can't ship alcohol-based or water-based flux or bar solder via air freight."

The channel plays a large role in the company's success, Black says. "You need to have the distributors to make sales. Customer orders tend to ebb and flow, and they need quick deliveries. [Solder] freight is high relative to the value and margin of the product, so it forces you to have local stock." AIM prefers distributors that are hands-on and seen as adding value with technical expertise. In Europe, South America and Asia, it tends to use a single distributor per country.

While some competitors focus on landing large accounts, AIM doesn't have a customer larger than 1.5% of its annual sales. Instead, it prefers companies that would rely more heavily on AIM's technical know-how. "We try to find niches that are less competitive," says Black. "There's a lot of opportunity in smaller and mid-sized companies, where we can provide expertise to their product. The number of engineers and technicians per line has shrunk. We are now where companies turn for engineering applications help."

Family Matters

If one were to survey the solder landscape, two types of companies would emerge. On one end are divisions of large multinational corporations, such as Cookson's Alpha unit, Senju, Henkel and Kester. On the other end are the family-run businesses, of which there are dozens. AIM falls into the latter, although its size clearly outstrips not only others of its genre but most of the publicly traded units as well. Although the Black name is not on the door, the family's history is inescapable and informs his vision.

A very self-aware individual who says he had "no guarantee" of ownership in the company, Black says he recognized early in his career that he would have to earn the respect of his coworkers. "I had to earn the trust and be self-conscious of how my words and actions would be perceived within the company. There are expectations, and I set high ones for myself. It's about accomplishment, not money.

"Sometimes when a family gets too successful, and the founder retires, the work ethic goes with them. Passion sets a good example and people pick up on that. It's very important for the company to maintain the culture that got us here. It must get transferred to the people who make the day-to-day decisions."

Black came to the business not as a technologist but from law school. Although he acknowledges the experience would be useful, he does not see the lack of a technical degree as a drawback. In fact, he suggests his background may make him more open-minded to his staff's opinions. "I don't have a technical background. And I'm running a business that is heavily dependent on that. Maybe there's a certain intangible effect. I'm much more interested in hearing what people think and can do.

"I don't think of solder as different from other businesses. A business decision is a dollars and cents issue. When it comes to business decisions, I don't need to understand metallurgy to make that decision. I'm in as good a position as anyone to make decisions. I am heavily reliant on our people for technical solutions."

As if to reinforce a culture of creative thinking, Black chooses not to align departments to budgets, asserting better due diligence and quality as a result. "Things flow better. One has to be something of an entrepreneur and operate without guidance. People who need committee meetings don't work out well here."

Brand Power

While Black has been charting his own path, over the years AIM too has attempted to develop its signature label. In the 1990s, it made one of the few attempts to attach a name to the otherwise endless list of solder designations. Branded as CASTIN, the patented tin-silver-copper-antimony alloy never met with mass board-level appeal, but has found a niche in BGA balls used in most handhelds.

Although a developer by preference, AIM did make the leap in 2005 as a licensee of Nihon Superior's SN100C alloy. "The license with Nihon is a unique situation," explains Black. "It helped launch AIM as a player in North America. There was a lot of testing and data available for SN100C, and it was winning over a lot of the European and Asian markets. So now we are part of a global organization with data and branding."

AIM, whose license covers North America and China, isn't just manufacturing and distributing the solder, says Black. "We also injected quite a bit of technology to the cored wire."

Rebounding from the 2008-09 recession, 2010 turned out to be a record year for AIM and SN100C. But while Black extols the virtues of working with Nihon Superior, he recognizes AIM is at its core a manufacturer.

"Brand is a huge factor in electronics, and we've spent a long time building a brand. And we have a way to go to get where I think we need to be. David Suraski is our sales and marketing face. Karl Seelig is our technical face. It's important for people to associate us. Customers get comfortable with long-term tenure. You don't want to ignore the value of your brand; it should outlive your representation. Customers confirm these relationships to different people.  Everyone's in sales."

Throughout our two-day visit, Black reiterated his desire to build a business structure that is flat and endures. In doing so, he allows, he is borrowing from his father's vision. "Herbert Black's legacy is to build something lasting. I don't want to get disconnected from what happens in the company. The guy who pours the metal is two layers from me. That comes from my dad and our family history.

"Ethics, moral and principles: They have to come first. Be upfront. Your mark on the world is the impact and effect on the people around you, not the building you put up or the company you worked in."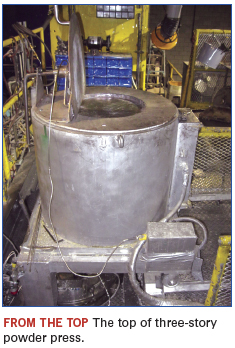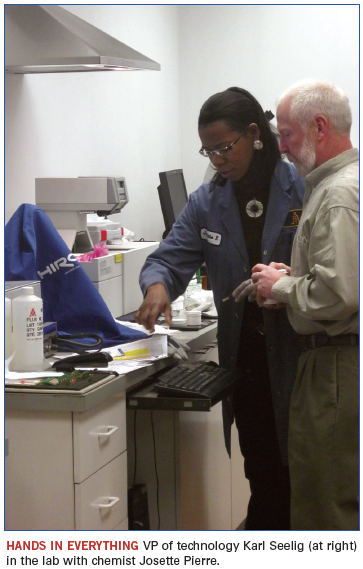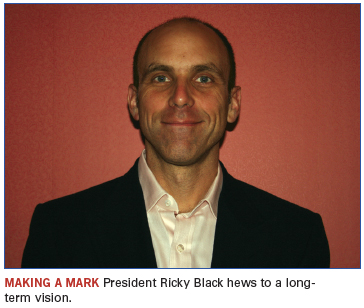 Mike Buetow is editor in chief of CIRCUITS ASSEMBLY (www.circuitsassembly.com); mbuetow@upmediagroup.com.