The biennial trade show was busy and upbeat, suggesting good times are still ahead.

Four years after making their Productronica debut, there were scores of AVGs and AVIs, but oddly no one at the biennial trade show was talking about them. Benchtop robots were everywhere too, to little fanfare.
What was hot, however, was process machines built for large-format boards, which are increasingly seen due to the 5G rollout and LED ramps, and virtual reality/augmented reality devices designed to enhance worker training and even production. And sensors are in everything.
The trek to Munich revealed a remarkably upbeat mood, especially in light of Brexit, widespread political upheaval, and US trade wars. While traffic seemed lighter than the recent past, Productronica remains the largest trade show by far for the PCB fabrication and assembly equipment markets outside Asia. Show organizers touted 44,000 attendees, a figure that at times seemed almost believable.
The other notable trend was the elevation from a line solution-based approach to total factory management, again led by the major OEMs like Yamaha, Fuji, Panasonic and others, but with a boost from some of the software vendors.
Just about all the major placement companies now offer AGVs, as do several other makers of handling equipment, most notably ASYS. Few spent any time talking about them, however. The sense we got was the devices are too expensive and too limited in function to see mass implementation in the next few years.
AR/VR development appears to have more near-term marketability. ASM and Aegis were among those leading the way. There's no clear standard yet; some OEMs are choosing Microsoft (Hologram) or Facebook (Oculus) systems. Others are going with derivatives of Google Glass. The choice is application-driven. ASM's VR, for instance, uses the classic Oculus-style goggles in concert with sensor-embedded gloves to teach workers how to perform machine maintenance. The gloves provide true tactile sense, adding a welcome element to the practice. The first rollout is for the TX series of placement machines, but ASM has extensive plans to add its other lines to the instruction mix, including DEK printers.
ASSEMBLY HIGHLIGHTS
Smart Factory
Aegis released FactoryLogix 2019.1 MES, containing some 120 enhancements. Its new FactoryOptix platform, which uses an AR similar to Google Glass, is a lightweight tool for assembly operators working in physically demanding spaces where both hands are needed. It has its advantages over bulkier AR/VR devices. Safety glasses can be popped into the frames, as necessary. Workers view their real environment, not a simulation, yet work instructions are easily visible, and full traceability is captured in real-time. "It turns the workers into a data source," said CEO Jason Spera.
Aegis also rolled out Enterprise Hybrid Cloud, a cloud server that connects to FactoryLogix and rolls up all the line level data into the user's enterprise system, where they can access it with their own IT tools. "Users can't be in a situation where their MES depends on full-time connection to the cloud because, if the Internet goes down, revenue won't get realized," Spera said. "The cloud isn't really about a database; it's about having a central analysis point."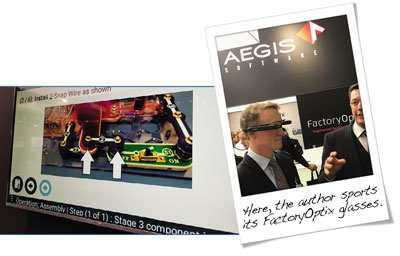 ASM's integrated smart factory software, called Service 4.0, is aimed at solving predictive maintenance problems. It recognizes when calibration is needed, and issues self-repair instructions. ASM sees broad use of IPC CfX to connect machines, while OEMs generate the data and add intelligence, so machines are more predictive. "We want to reach zero downtime and be able to manage all the machines [in a plant] with a single operator," explained Jeff Timms, president of ASM Americas.
The firm is quickly installing the software acquired when it purchased Critical Manufacturing. The tool shows the individual lines or entire factory, including conveyors, feeders, and more. Siplace equipment is automatically configured into the factory software. Moreover, multiple locations can be viewed from a single command center. The auto-populated calendar function shows the machine maintenance schedule and brings to the floor standard instructions for tool repair, including video demonstrations of the activity order.
Handling
As mentioned, ASYS is really shining here. The company is firmly centered on aiding customers looking to a top-down approach to factory management, with new features that help follow material throughout the plant, while automating machine-to-machine processing. A multi-magazine feature on the Speed loader doubles handling throughput. The bare board stack loader has a modified magazine, permitting loading of several boards at a time. A vacuum suction cup on the extractor allows automated extraction of the bare board. All the while, the software is tracking location and inventory. ASYS's incoming material station can relabel a reel with a unique ID and load it inside a dry tower, while an optional embedded x-ray counter tracks the parts. ASYS, of course, makes component cabinets too, since its acquisition of Totech.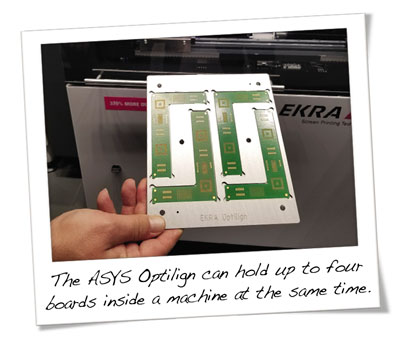 Printing/Dispensing
Released earlier this year but perhaps overlooked, ASYS's Optilign can sit multiple boards in a carrier, for single-part printing. A fiducial camera checks position and repositions inside the carrier and can print all parts at the same time to increase throughput. Up to 50 parts fit inside the carrier.
Multicarrier can fit up to four carriers inside a machine at the same time, and moves them to the print stage at once, for simultaneous printing. It also performs single-wipe post-print. ASYS sees this as the future of printing: collimating parts for single-stroke print and single-stroke wipe, then re-separating the parts.
ITW EAE's Prodigy dispenser added a large form factor for dual-lane operation. It now handles up to 10" boards on each rail. A passive IR sensor enables closed-loop monitoring of temperatures all through the machine.
The company's Momentum II printer has two noncontact sensors for monitoring paste temperature: one on the paste cartridge and one pointing toward the stencil. They are designed to prevent operators from inserting a new cartridge if the temperature is out of range, and support traceability requirements for various end-markets. The printer pulls the paste specs from the user's MES, and the sensors can stop the printer if the temperature goes out of spec during operation. A paste height monitor allows operators to define the range and alerts users to out-of-spec conditions. The Edison stencil printer line now has a staging function, allowing up to three boards on a single stage conveyor. Built-in buffering capability absorbs upstream delays.
ASM released DEK TQ, a stencil printer with dual-lane capability and optional auto-coplanarity.
ESE's US-8500X handles boards up to 850 x 610mm, with reported accuracy of +/-25µm and a 13 sec. cycle time. The US-2000DXH handles smaller boards (350 x 250mm) at the same accuracy but with a 7 sec. cycle time.
LPKF this year upgraded its MicroCut 6080 stencil cutter to create apertures of 18µm or 10µm, and throughput is now up to 33,000 apertures between 10µm and 125µm.
Kyzen touted its E5361 stencil cleaner, which can be used on the printer or in a cleaning system.
Fuji's new NXTR PM stencil printer has a dual-lane conveyor, and automatically calculates printing conditions and makes on-the-fly updates. Its auto-solder transfer feature can load paste from the front of the machine on-the-fly.
Nordson Asymtek continues to enhance its fully automatic conformal coating concept. The Panorama S-Line uses the area below and adjacent to the conveyor as part of a 10-zone heater. It reportedly cuts the overall line footprint by 50%. Nordson also added progressive cavity pumps to its Forte dispensing platform, which is a faster version of the Spectrum II line.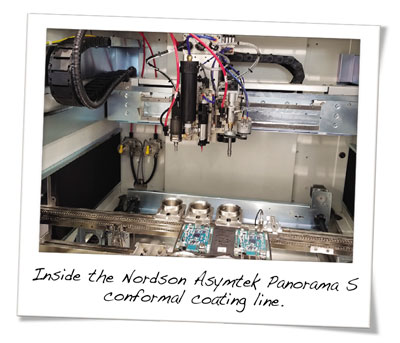 Speedprint expects to roll out new software in 2020.
Placement
Full-line solutions are the name of the game for the major placement companies. Yamaha showed YST15, an intelligent storage system released at the beginning of the year. It has implemented a solutions engineering division in Europe, which works with customers on integration. Its Advanced Technology Center, launched last year in Japan, is working on AR, big data and self-learning projects. Yamaha Factory Automation, a unit focused on robot technology, has expanded from Japan to Europe and the US.
ASM showed how an operator working in concert with an AGV can move material and changeover lines with minimal manual involvement. In its demo, the operator's role was reduced to feeding new tape into the placement machines, while the AGV did the rest. A tape disposal system collects all waste and transports it away from the line.
Fuji showed the NXTR, a 50,000 cph machine with moving smart loader, that attaches via a rail system to feed up to three placement machines. The loader has sensors for contact detection, parts, and panel height.
Hanwha launched its 520M placement machine in Europe. The new dual-lane platform has two heads, making it lighter, new MMI software and new intelligent feeders.
Juki upgraded its RS-1R component mounter with a Takumi placement head, an eight-nozzle version that automatically adjusts pick-and-placement height on-the-fly.
Soldering/Materials
ITW EAE's Zeva selective solder line now has fiducial recognition for improved accuracy. The non-wetted nozzle has a single direction overflow, and couples with supplemental nitrogen to automatically perform debridging. Board warpage is compensated for automatically as well. The 16 x 20" max. board size is set to be increased. ITW is moving production of its selective machines to Camdenton, MO.
Thermaltronics' new inline soldering robot, TMT-9900S, has an onboard camera used to center and click on the points to solder, locate fiducials for alignment and assist with operator programming, and a laser to align the tip to the board height to ensure proper offset and correct for warpage.
Seho's SelectLine C selective soldering line is designed to handle long assemblies. The new mode for continuous flow eliminates stoppages for fluxing or soldering; instead, the flux and soldering stations move on a bottom-side gantry in the x and y axes while the board is moving. Operators input the flux and soldering path based on a scan of the PCB. This was one of the true new ideas seen at this year's show.
AIM showed a pair of new cored wires: RX 18 for lead or Pb-free machine soldering and CX 18 for hand soldering. Its new paste and bar facility in Malaysia should be online by year-end.
JBC Tools' JNASE rework station regulates temperature and airflow at very low levels in order to avoid movement of adjoining components, making it capable of reworking parts sized down to 008004 components.
ITW's Centurion convection reflow has an optional nitrogen-to-air switch, and reportedly saves nitrogen that is in the machine when switching to air mode. The Dwellflex 4.0 tool on its full tunnel wave soldering systems can adjust contact wave speed on the fly, allowing fast switchover from high mass to low mass boards.
Indium is adding a simulation lab in China, and is moving into new headquarters in Clinton, NY, and converting its former HQ to a manufacturing plant. An additional factory in India is up and running, and expansion is coming in Singapore.
There was not as much movement on vacuum soldering as two years ago. Rob Dimatteo of BTU said interest is high in vacuum to reduce voiding.
Weller made a jump with its station-level connectivity to enhance traceability. Its WX smart platform, coming in the second half of next year, embeds electronics in solder tips to measure the number of joints soldered and when they were soldered, track tip life, and feed data back to the ERP system for reordering. If a tip is moved to another iron, it "remembers" the profile, offsets, and related parameters. An auto-calibration tool can adjust to the correct temperature in seconds. A line manager can track productivity in real-time via a control panel. The system has a touchscreen interface, and modules for adding hot air or a desoldering vacuum are stackable to conserve bench space. Weller also mentioned its new custom tip service, with a two- to three-week delivery time. Also due in 2020 is the Robot Kit, a soldering tool that attaches to a universal robot and with optional optical recognition to eliminate programming.
Inspection
"2-D inspection is dead" was the refrain from the AOI companies. MIRTEC highlighted its new AI deep learning function. The algorithm takes Gerber and marries it to centroid information, compares it to an internal 2-D and 3-D model database, and assigns the part type and process parameters for each SMT device. Over time it reportedly can cut programming time to around 15 minutes. It comes on the MV-6 Omni, which combines SPI and AOI in the same machine. It is also on the new Alpha 3-D SPI/AOI, which foregoes the traditional moiré approach in favor of an undisclosed "hybrid" technology said to use "close to" real data – basically, less filtering of the raw machine data – to show clearly what is taking place at the solder joint. Alpha has four 18Mp side cameras and a 12Mp topdown camera and can adjust to 35mm high parts.
Viscom showed the X8068SL, an x-ray capable of handling parts up to 20kg, such as inverters, chargers and batteries. It sees applications for direct bond copper (DBC) and products where voids are a major issue. The new S3013 Ultra 3-D AOI offers 80mm upper transport clearance and has eight angular and orthogonal views for press-fit and plated-through-hole inspection. 3-D wirebond inspection is next, Carsten Salewski noted.
Koh Young's Ksmart process control software now has an AI engine that, as it recognizes parts and develops an internal master library of shapes and packages, can cut programming time by 80%. The Zenith Alpha 3-D AOI has a fifth projector capable of inspecting 22mm-high parts.
Saki has expanded its R&D operations in the Czech Republic. Its new 3Xi-M200 3D-CT AXI is designed for inspecting insulated gate bipolar transistor power modules and can handle large boards (360 x 510mm) using a two-step process.
Omron has a new 3D-SPI called VP-9000 which communicates back to the printer and has three resolutions (for example, 15µm/7.5µm/5µm) to enable detailed and high-speed inspection of various PCB characteristics.
Baker Hughes (aka GE aka Phoenix X-ray) showed the Microme x neo, a combination AXI and planar CT system. It has a changeable axis fixture that can be added for 3-D CT (in a different direction). A micro CT inline scanner, called Phoenix speed scan HD, has a 25µm to 50µm resolution and a sub 60-sec. cycle time, and is for complex assemblies, injection moldings and batteries.

Routing
ASYS showed its Divisio 5100 inline router, the first "smart generation" machine. Every sensor in the system feeds back to the PC. It recognizes use patterns and builds a know-how base, from which alerts are sent to users as spindles become worn. Starting when an order comes, a digital model of the entire machine speeds the configure-to-order (CTO) process. The new Divisio 9000 router uses a green laser for separating flex circuits or thin FR-4 substrates. The laser and guidewave are fixed, leaving no moving parts.
FABRICATION HIGHLIGHTS
Fabrication is always the lesser twin at Productronica. Fab suppliers take up less than one hall, compared to four for assembly and test. There was, however, more equipment than we have seen the past few shows, with a clear emphasis on large format handling. The downside? Most of the machines shown weren't new.
Polar Instruments has added backdrilling to its Speedstack PCB stackup design tool. Designers can now show fabricators where they want via stubs removed.
Ventec is rebranding its laminates to reflect the potential end-use markets. Expect to see the term AutoLam and, next year, AeroLam.
PrintProcess showed Opal, a tabletop system for layup optical alignment and prebonding. It features four-camera post-etch alignment, for pinless layup and prebonding, innerlayers and coverlays. It can be used on rigid and flex substrates.
First EIE had a lower cost direct imager: EDI 300. It was one of several direct imagers shown, many of which, while not debuting at Productronica, came out in the past year. Another new one was from Screen, whose Ledia 6H has three wavelength light sources for broader coverage of the wavelength regions for exposure, significantly expanding the number of supported resist types. It was shown by Ucamco, which released Iamcam frontend software, a workflow system that automates CAM. According to the company, starting with any dataset, users can input variables such as the finish and copper weight, and it will program the CAM station automatically. The tool, now in beta, is built on Ucamco's Integr8tor engineering platform, with AI added.
RG Elektro-Technologie debuted a pair of machines: the TM-600 PCB printer and the LZ-400 laser marking system, which features a Keyence laser.
Lenz showed LWS combination drill/router, which has a 610 x 650mm working area, two heads, and spindle speeds up to 200rpm.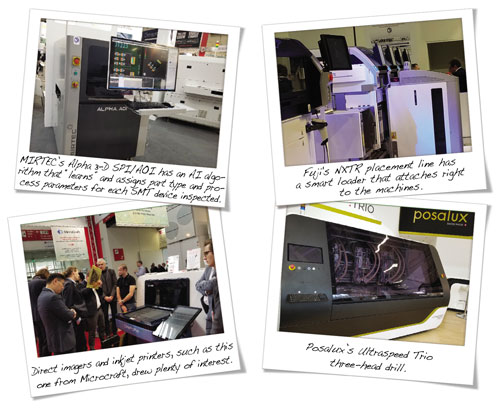 Schmid updated its InfinityLine etcher with the model A+, which adds automation.
The Taiyo Vision M109SC is a semiautomatic final visual inspection. It has a 5µm or 10µm camera with adjustable title angle and LED illumination. It handles PCBs up to 300 x 500mm.
The Shoda Techtron MVC-720C v-groove scoring machine has an optical scorer, auto-load and unload, and optical alignment. It handles PCBs from 0.3 to 3.2mm in thickness, and max panel size of 720mm.
We saw more than two dozen EMS companies exhibiting, the most we can remember. They ranged in size from top-tier ODMs like Jabil to Tier II firms such as Computime and many smaller local and regional players, mainly from Eastern Europe. Several of them are smallish OEMs that have launched EMS services in the past few years. Conversely, there appeared to be fewer fabricators than in the past.
To call Productronica a massive show is a gross understatement. There are over 1,500 exhibitors, and it's impossible to see everything. Still, if trade shows are a barometer of industry health, the current electronics expansion has some life left in it.
Mike Buetow is editor in chief of PCD&F/CIRCUITS ASSEMBLY; mbuetow@upmediagroup.com.