Details

Written by

Akber Roy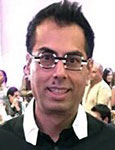 An overview of the multilayer PCB fabrication process.

The actual process of PCB fabrication can begin on receipt of the necessary documentation from the designer. These data include the choice of materials for the substrate and cladding, the number of layers and stackup, the mechanical layout, and the routing. The documentation must provide individual details for each layer of the PCB.
Preparing the central panel. The fabrication process starts with obtaining the copper-clad substrate. For a multilayer board, copper will be on both sides of the substrate, which forms the innermost or central layer. Usually, such copper-clad substrates are supplied in sizes of standard dimensions, with the panel sized to match the specific mechanical layout. Otherwise, the fabricator will resize the panel the necessary dimensions by means of a shearing process. Depending on the size and total number of discrete PCBs to be made, the panel may be dimensioned to contain multiple PCBs: An 18" x 24" panel might, for instance, contain four 4" x 4" PCBs. The copper cladding is usually provided with a thin layer of protective coating to protect the surface from oxidation. This protective layer must be removed by immersing the panel in a weak acid bath.
Read more ...