Details

Written by

Akber Roy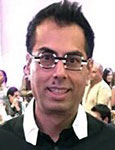 A primer on the steps for building advanced PCBs.

To get more functionality out of boards but within the same or reduced board sizes or areas, OEMs are increasing the density of the product by means of high density interconnect (HDI) boards, which are PCBs with multiple layers vertically connected with blind or buried vias.

HDI PCBs use high-performance thin materials, and have fine copper lines and microvias. While various methods are available, some patented, some not, we use what's known as Every Layer Interconnect (ELIC) technology, which produces very thin flexible PCBs with high functional density per unit area. Advanced HDI PCBs make use of multiple layers of copper-filled stacked in-pad microvias that enable interconnections with even greater complexity.
Read more ...