The annual list of the largest contract assemblers proves looks can be deceiving.
To the uninitiated, a look back at the past few years of the CIRCUITS ASSEMBLY Top 50 would suggest the industry has been growing and at a strong pace.
The last time the No. 50 entry on the list fell in terms of revenue was in 2011. And this year was the first where it required at least $300 million ($328 million, to be exact) to make the list.
But a broad recovery hasn't been in the cards. At least 22 of the top 50 companies saw sales slide last year, some by a billion or more. Quanta Computer, in fact, dropped by $3.6 billion, or roughly the size of Cal-Comp, the No. 13 entry on the list. It's become exceedingly difficult for EMS companies to grow organically. The industry as a whole likely fell 3 to 4% in 2013. It's not a business for the weak of stomach.
Table 1. Currency Conversions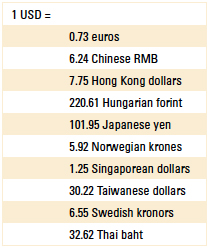 Most companies experienced a trough in the middle of 2013, then rebounded by the December quarter. This was in line with the OEM end-market, which grew sequentially by 2%, 7% and 10% during the second, third and fourth quarters, respectively, according to IHS. Those heavy in PCs and consumer goods like TVs were pounded: Quanta's sales were down 14%, dropping its rank one spot to No. 3; Compal, the world's second largest notebook maker, barely eked out a profit; No. 13 Cal-Comp (PCs) and No. 17 BYD (handsets) both saw revenue plunge by nearly $1 billion, and No. 7 Wistron (computers) and No. 10 TPV (TVs) also saw sales dive.
Last year the big story was whether Nam Tai Electronics could sustain the 91% growth rate it put up in calendar 2012. It couldn't. In fact, the EMS couldn't even stay in business. After watching its liquid crystal module sales plummet – another victim of the tablets and smartphone market – the company's management has folded its electronics tent in favor of what it hopes will be a more stable pursuit: real estate. Some observers claim Japan Display, a consortium of Hitachi, Sony and Toshiba whose major customer is Apple, responsible for Nam Tai's crash. It says here the classic overdependence on a single high-flying market is the real culprit.
Pyramid scheme. Plotted as a geometric shape, the EMS industry would resemble a pyramid. The Top 10 alone combined for $333,406 billion in revenue (Table 2). Foxconn alone made up more than 34% of the Top 50's aggregate sales, and in all likelihood, its share of the worldwide EMS/ODM market is right around 30%. For an industry with more than 3,000 known sites, that's astounding.
Table 2. The CIRCUITS ASSEMBLY Top 50 EMS Companies, 2013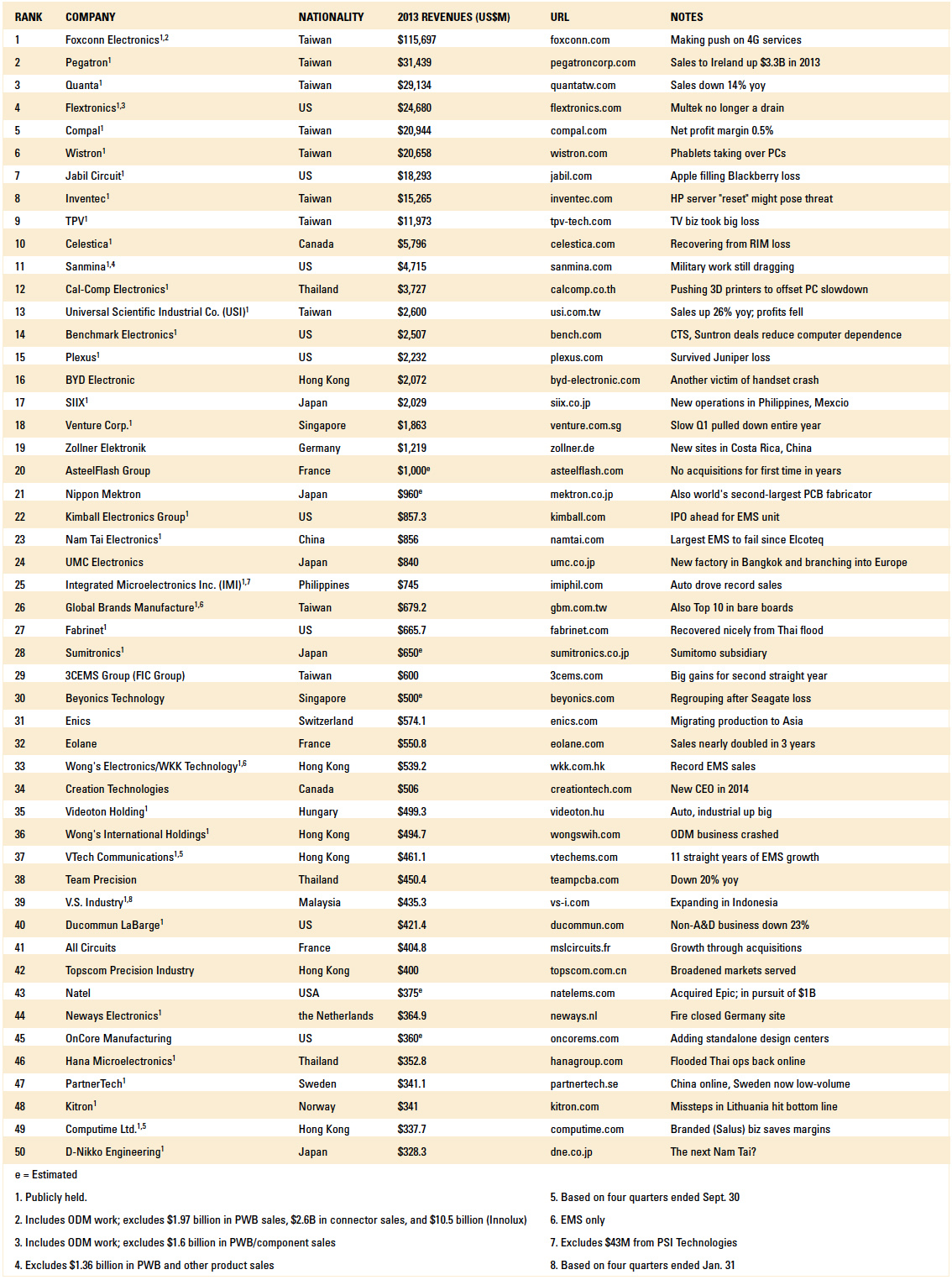 Anyone inside the industry already knows Foxconn is a behemoth. Given it builds everything from bare boards and connectors to assemblies to plastic housings and sheet metal enclosures, it's practically an industry unto itself. (And with the company's push into 4G broadband and reported bid for a stake in Asia Pacific Telecom, it appears to want to take that final step.) Its list of subsidiaries runs 18 pages long in its annual report. That said, it would appear that while Foxconn grew overall in 2013, it is possible its EMS/ODM operations actually shrank.
Often, the big movers and shakers each year come from acquisitions. Last year had its share, but many of the deals took place either outside the EMS space (Jabil's purchase of Nypro) or were of the micro-tier variety. No. 14 Benchmark Electronics was the exception, gobbling up former Top 50 members Suntron and the EMS operations of CTS. The deals were enough to move Benchmark's annual revenue a tick higher, but its ranking didn't budge.
Every year, one or two previously unrecognized companies pop up. 2013 was no exception. All Circuits, based in France, dates to 1992, when it was part of automotive parts maker Valeo. Jabil acquired the site in 2002, then sold it to AIAC in 2009, which renamed it MSL Circuits. AIAC then acquired Sagemcom's industrial services and electronics manufacturing business, which included sites in France and Tunisia. It enters the list at No. 43. No. 38 Wong's International Holdings (not to be confused with Wong's Electronics, also based in Hong Kong) should have made last year's list.
No. 44 Natel pushed its way on through the acquisition of (considerably larger) Epic Technologies. Natel is one to watch; its stated goal is to reach $1 billion in sales within the next 10 years.
Some companies are known for being tight-lipped with information. Cherry Corp. might well be large enough to make the Top 50, based on some published reports. The company is owned by German automotive supplier ZF Friedrichshafen, but the unit declines to disclose that level of detail. Revenues of No. 21 Nippon Mektron were determined using an industry-standard calculation that the assembly value of a flexible circuit board is 40% of its overall cost. Natel is another privately held company that is quiet about its financials. No. 45 OnCore once was fairly open with its numbers – no more. Kaga Electronics of Japan might deserve a place on the list as its EMS unit generated sales of $2.15 billion in 2013, but the company includes component distribution to third parties in its numbers.
By nation, the US and Taiwan remain the power players (Table 3). This is deceiving, of course, when one considers where revenue is actually generated, versus where the headquarters are located. Using production as the primary metric, China would be the leader by a long shot, with at least two dozen entries.
Table 3. Top 50 Entrants by Nation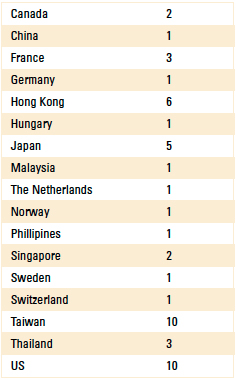 Geographic expansion by the Top 50 players is always a trend. While Mexico garnered plenty of headlines in the West, the migration was considerably more far-flung. In 2013 we saw Foxconn continue to make overtures toward Indonesia, although some government officials are now complaining the company is just toying with them. No. 39 V.S. Industry also announced plans for Indonesia. Perhaps feeling some pressure from negative media reports, Foxconn then committed millions toward new US manufacturing and R&D facilities. Zollner moved into a new site in Costa Rica, making it the only member of the Circuits Assembly Top 50 to take up residence in Central America. Japanese titan UMC (No. 24) moved into Thailand.
No. 34 Creation Technologies and No. 45 OnCore Manufacturing were among the other top players that opened new design centers.
Quanta began working with cloud computing developers on a slate of turnkey solutions, including offering printed circuit board and mechanical design software on a fee-for-use basis. The cloud – a network of servers controlled by a single company – has been a popular vehicle for selling storage space to third parties, but Quanta's arrangement takes that to a new level by offering Cadence's OrCAD PCB design software and PTC's Pro/E MCAD, among other design tools, to design engineers in Taiwan.
Vertical expansion continued as well. Jabil paid $665 million in cash to acquire Nypro, extending its manufacturing reach into the healthcare and consumer packaging markets. At year's end, BlackBerry and Foxconn announced it would partner on smartphones, with Foxconn handling the hardware. Just weeks before, Cal-Comp had announced it would produce a self-branded 3D printer.
And while in a traditional OEM acquisition Jabil bought Silicon Graphics' manufacturing plant in Wisconsin, it also proved it is not against cohabitating, taking over certain operations inside IBM's plant in Poughkeepsie, NY, and taking on an undisclosed number of workers there.
It's impossible to measure, but it would be interesting to know how much EMS/ODM revenue comes from contractors building for other contractors. It's no secret that scores of Tier IV EMS suppliers act as overflow capacity or provide specialty services to larger players, often based on geographical proximity. But less well recognized is how much product flows from major players like No. 5 Compal through regional partners such as Visum Sistemas Eletronicos, which has four factories in Brazil, or between No. 17 SIIX and Ayrshire Electronics, an EMS with five plants in the Southeastern US and Mexico and whose revenue is nearly enough to crack the list. No. 29 3CEMS has been teaming with No. 47 PartnerTech since 2002, and has even won an award for being PartnerTech's best supplier. Is revenue moving through these partnerships at sufficient volume to move the rankings needle?
End notes. No. 10 Celestica once again edged out Sanmina, as it has every time since we began compiling this list in 2008. They have completely different models, but they are throwbacks to the days when North American firms dominated the EMS rankings.
Why does the CIRCUITS ASSEMBLY Top 50 vary somewhat with other lists? There are a few reasons. First, we try to collect numbers for the calendar year only, which we feel give a better side-by-side comparison. Some rankings, on the other hand, accept company fiscal years. Second, we factor in all the ODMs. EMS companies are evolving and assuming more of the supply-chain management and production. There's no doubt that Pegatron, for example, is competing with Foxconn and Jabil for Apple's hardware business, so how is it rational to exclude Pegatron from the list? And if Pegatron is included, then it's only logical to include Compal and Wistron too.
Where possible, we tease out non-EMS/ODM revenue. Foxconn, for instance, is the parent of Zhen Ding, a top five bare board fabricator with nearly $2 billion in sales last year. It also is home to a billion-dollar connector business. Flextronics, No. 26 GBM and Sanmina also have major board fab operations. Likewise, IMI's power semiconductor business is excluded.
Some minor variances can be chalked up to the currency conversion factors. The exchange rates here were those on May 12.
Compiling this list is always an exercise in patience and comes with a certain amount of finger-crossing. The size and number of privately held companies, coupled with the large number of offshore entities, which are held to different accounting standards, makes it impossible to present a list that is 100% accurate. Still, we always give it our best effort, and any errors are those of the author alone.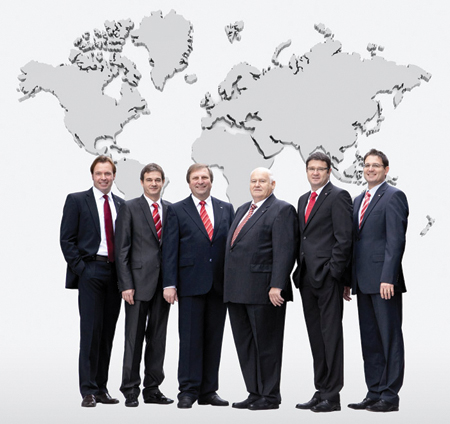 No 19 Zollner is the second largest (after BYD) privately held EMS company in the world, and the largest that remains family run. Shown from left: CFO Thomas Schreiner, board member Christian Zollner, CEO Johann Weber, chairman Manfred Zollner Sr., and board members Manfred Zollner Jr. and Ludwig Zollner.

Mike Buetow is editor in chief of PCD&F and CIRCUITS ASSEMBLY; mbuetow@upmediagroup.com.