A March earthquake. September floods. Social unrest. Throughout 2011, upheaval was in the air.
Acquisitions, bankruptcies and Mother Nature were the name of the game in 2011, as topsy-turvy market conditions coupled with inexplicable environmental disasters and unprecedented social backlash led to what were in some cases previously inconceivable opportunities.
In what will remain a year for the books, an earthquake and subsequent tsunami hit northeastern Japan, wiping out scores of manufacturing plants and other business, and leaving painful images of the dead. But in what turned out to be Japan's finest hour, the nation recovered quickly, with most multinational business back to normal within two quarters. Thailand wasn't so fortunate. Plants there took such a drubbing that it could be a year before they are usable again. Worse, the repeat disasters had decision-makers rethinking their supply-chain plans.

Had it not been for the weather, the story of the year would have been Elcoteq. Once a top 5 EMS company, the onetime main supplier to Nokia found the competition from Foxconn too much to overcome. It saw sales and profits spiral down over a five-year span, then finally declared bankruptcy last fall, shuttering or selling all but four of its 13 manufacturing sites.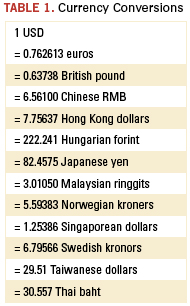 Watching, and perhaps learning from, Elcoteq's mistakes, No. 2 Flextronics bailed from the price-sensitive PC assembly space in 2011. Having just formally entered the PC production business in 2008, Flextronics quickly grew that segment to $4 billion in annual revenue, only to see margin erosion threaten to wipe out the company's profits. Competing in a commodity space works only for the largest player, it seems.

Speaking of the largest player, Foxconn (who else?) in 2011 continued its long reign at the top of the pile. It seems hard to imagine, but 10 years ago, Foxconn trailed Flextronics, Solectron, Sanmina-SCI and Celestica in annual revenues. Still, cracks in its formidable armor began to show. Dinged by government-mandated wage hikes, Foxconn has moved much of its reportedly 800,000-man workforce inland, leaving its Shenzhen campus to Apple (more on that in a moment). Worldwide social pressures shone an uncomfortable spotlight on Foxconn, where a blitzkrieg of worker suicides, plant explosions, inflammatory statements (and, perhaps, just a little bit of Apple fatigue) put the firm squarely in the crosshairs of the mainstream media, not to mention several workers' rights NGOs. In response, Foxconn intimated plans to automate a number of its operations with robots.

Upheaval. An army of robots would have made no difference in Thailand, which was turned upside down when fall floods like none seen in the country in 50 years soaked the nation for the better part of two months. No EMS company was decimated more than Fabrinet, No. 19 on the 2010 list and headed for an even higher ranking. High waters breached two of its facilities, rendering one permanently closed and taking the other offline for months. Others that felt the impact in Thailand included No. 6 Cal-Comp, No. 7 Benchmark, No. 42 Hana Microelectronics and No. 47 SVI Public Co.

No. 14 Beyonics also was hit hard by the Thailand floods. Having seen sales fall about 15% over the past two years, and in the midst of five straight unprofitable quarters, the Singapore-based firm in October announced plans to go private. (The company should know something about going private; its founders came from Flextronics, which did the same thing in 1987 before relisting in 1991.)
[Ed.: To enlarge the table, right-click on it, then click View Image, then left-click on the table.)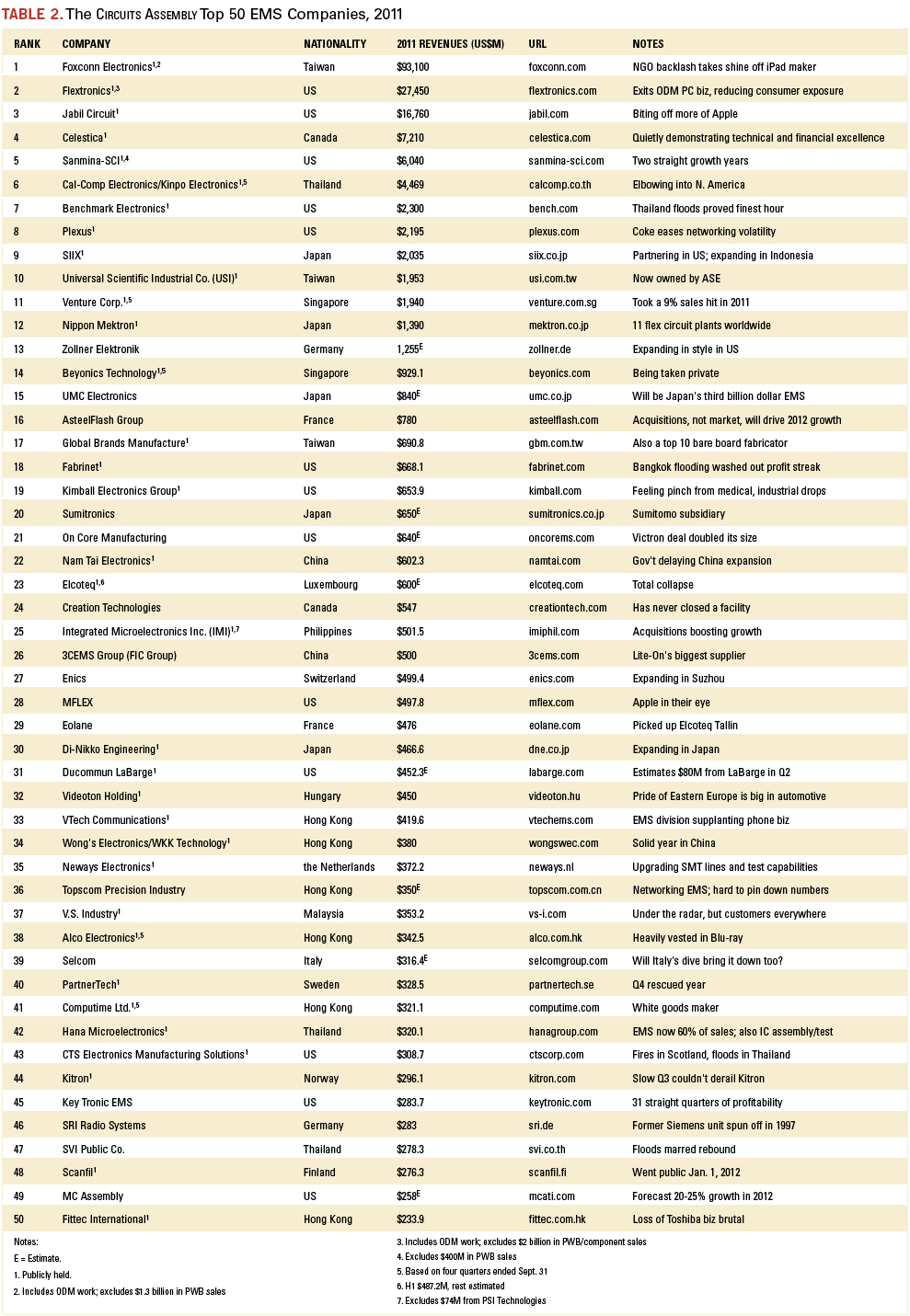 In the aftermath of Japan and Thailand, certain OEMs and EMS companies are rethinking their supply chains. No. 3 Jabil already has made clear it wants to navigate away from the all-in-one industrial parks – where suppliers sit almost on top of each other – so characteristic of the Pacific Rim. Moreover, as companies become more aware of time-to-market and the amounts of capital tied up in product in transit from distant lands, a trend is emerging toward positioning production closer to the point of end-use, a phenomenon known in the US as "reshoring." Social pressures, accented by the long and loud protests over alleged worker exploitation that have landed Foxconn (and its leading customer, Apple) on the front page of The Wall Street Journal for all the wrong reasons, are also leading assemblers to contemplate not just higher but politically safer ground.

As usual, major mergers and acquisitions changed the face of the CIRCUITS ASSEMBLY Top 50 list. No. 21 OnCore Manufacturing, a major defense and aerospace supplier, acquired Victron in what was essentially a merger of financial equals. No. 31 Ducommun made the biggest splash in its 157-year history, acquiring LaBarge in June to form a defense electronics powerhouse. No. 16 AsteelFlash bought Catalyst EMS. (Just after the year ended, No. 8 Plexus announced a deal to acquire Kontron Design Manufacturing Services in Penang.)

Falling off the list was EPIQ, which sold a total of five plants in Bulgaria, Czech Republic and Mexico to No. 25 Integrated Microelectronics Inc. Also departing was Surface Mount Technology Holdings (No. 45 in 2010), the Hong Kong-based EMS firm that endured a painful reorganization in 2011. Revenue plunged 38% year-over-year to about $177.6 million. Suffering a similar fate is former Top 50 mainstay Simclar, which has seen sales fall from a high of $400 million in 2006.
Joining the list were several large flex circuit companies whose EMS revenues were previously not properly accounted for. Most flex PCB fabricators also perform assembly, and it is difficult to get an accurate reading of the value of the bare board from the finished assembly. However, based on data from IPC and others, bare flex circuits comprise roughly 40% of the shipment value. Based on such estimates, No. 12 Nippon Mektron (which has at least 11 plants that perform SMT assembly) and No. 28 MFLEX are now represented in the Top 50.

Whither Kaifa? Not making the list: Sichuan Changhong Electric, a huge Chinese entity (35,000 employees) that makes TVs, white goods and other components. While it builds product for several brand name Japanese OEMs, it was impossible to determine just what its EMS/ODM sales were in 2011. Same goes for Aeroflex. We also left off ODMs such as Qisda, Compal, Wistron, BenQ, and others that are essentially OEMs.

Should Shenzhen Kaifa Technology be included in EMS rankings? It's not an easy question to answer. On revenue alone, perhaps: Kaifa, as the company is known, had sales of over $4 billion last year. Using that gross number would place it squarely between Sanmina-SCI and Cal-Comp in the Top 10.

But there's more to it than that. Kaifa generates an extraordinary amount of its revenue from making and selling hard disk drives to Seagate. In fact, under most classifications, Kaifa would rank as an ODM, and not just of printed circuit board assemblies.

Then there's the confusion of what, exactly, "Kaifa" is. The company, which is supposedly traded under the ticker symbol 00021 on the Shenzhen Exchange, has no current listing. However, it is also apparently a subsidiary of China Electronics Corp.

CEC is giant. The conglomerate says its annual revenues topped $8 billion back in 2006, and it employs more than 70,000 workers across some 61 subsidiaries, including 13 listed holding companies. Among them are cellphone and datacom OEM Panda Electronics, computer and TV manufacturer Greatwall Technology, and yes, Kaifa.

It also is state-owned, and operates directly under the administration of China's central government. Forget, for the moment, how strange it is for what is essentially a government entity to be publicly traded. Consider instead whether a government business can be considered a contract manufacturer, especially in China, where the Communist Party still holds sway over most economic policy and can pick the winners and losers at the drop of a hat.  Want to get a government contract? Use a government provider. It becomes hard to distinguish between what is competitive bidding and what is political.

Then there's the matter of CEC's financials. They are dense, to be sure. It's hard to tell what revenue comes from external customers and what is just "padding" from its own pyramid. Among those that can be discerned, Greatwall alone made up $1.6 billion in revenue in 2010. Read the fine print and you'll see the company has several "deals" in place to buy components and services from other CEC subsidiaries.

So should Kaifa be listed on the CIRCUITS ASSEMBLY Top 50? Because it is next to impossible to know what its true revenue from EMS-related activities is, we say no, while respecting the decision of others to disagree.

EMS is a lopsided business. The CIRCUITS ASSEMBLY Top 50 make up about 87% of the total revenues of the entire electronics outsourcing industry, although that figure admittedly includes a fair percentage of revenue that would properly be classified as ODM work. The industry as a whole reached about $205 billion in sales last year, according to IHS iSuppli.1 (The research firm predicts industry revenue to be flat in 2012.)

The US continues to dominate the Top 10 list, with five of the top eight entries, although we are seeing some minor shifts take place (Table 3). Regionally, the Top 50 remain intact, led by Southeast Asia (16 entries), North America (15) and Europe (12). Japan gained two entries, a reflection of heretofore unacknowledged EMS work. Notable for its lack of entries is Russia, which almost certainly has domestic firms that would qualify, and whose electronics assembly industry was forecast to reach $14 billion in 2010 (55% of which was industrial or military).2 While changes in the rankings have been most common in the middle to lower half of the list, a few firms are threatening to shake up the top. Given their organic growth and acquisition strategy, respectively, Zollner and AsteelFlash look like good bets to break into the Top 10, should any of the current leaders falter.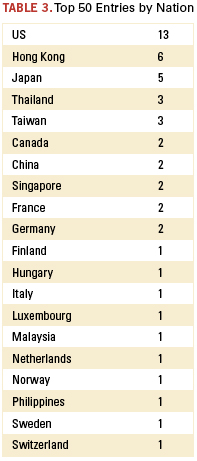 References
1. Mike Buetow, "iSuppli: EMS in for Flat Year," circuitsassembly.com, Feb. 7, 2012.
2. Ivan Pokrovsky, "Electronics Manufacturing in Russia," New Russian Electronics, Business Industry Yearbook, 2008.
Mike Buetow is editor in chief of CIRCUITS ASSEMBLY; mbuetow@upmediagroup.com.
Ed: For the 2010 Top 50, click here.
For the 2009 Top 50, click here.