The annual Women's Leadership Program at SMTA International promotes diversity in engineering and a culture of inclusion.
An inclusive culture in the workforce increases an organization's performance and creates a competitive advantage. Join us for the Women's Leadership Program at SMTA International 2018, which aims to promote diversity in engineering fields and a culture of inclusion for women in technical conferences.
Expand your technical knowledge with two presentations on photonics and reliability of electronics then enhance your leadership skills with presentation focused on workplace culture. These presentations are scheduled on Oct. 15 from 1:30 – 3 pm. In addition, all the speakers will share their contributions to the advancement of women in STEM and academia. These presentations will be followed by a table topic and speed networking session hosted by several electronics industry leaders.
All men and women are welcome to attend and promote inclusion. Do not miss a chance to show your support for inclusion and diversity in engineering fields by attending this one of a kind session. The afternoon concludes, as always, with our fantastic annual Women's Leadership Connection Reception with wine and tasty hors d'oeuvres from 5 – 6 pm.
Here is the complete schedule:
Women's Leadership Program, Oct. 15, 2018
Chair: Priyanka Dobriyal, Ph.D., Intel Corp.
Co-chair: Elizabeth Benedetto, HP Inc.
• Presentations: 1:30 – 3 p.m.
1) Optics and Electronics Irene Sterian, P.E., Celestica
2) "WIT at RIT" - Women in Technology & Is Photonics Integration in our Future? Martin Anselm, Ph.D., Rochester Institute of Technology (RIT)
3) Be Yourself: Getting Ahead by Being a Woman in a Man's World, Karyn Ross, Karyn Ross Consulting
• Group Discussion/Table Topics: 3:30 – 5 p.m.
• Moderators: Marie Cole, IBM, and Michelle Ogihara, Seika Machinery, Inc. FLITE US Ambassador
1) Recognizing Your Own Leadership Qualities, hosted by Martin Anslem, Ph.D., Rochester Institute of Technology (RIT)
2) How to Relentlessly Reinvent Yourself, hosted by Karyn Ross, Karyn Ross Consulting
3) Efficient Networking, hosted by Lenora Clark, MacDermid Enthone
4) Work and Life Integration, hosted by Bill Barthel, Plexus Corp.
5) Unconscious Biases: Real Actions to Overcome, hosted by Elizabeth Benedetto, HP, Inc.
6) Capitalizing on the Silver Tsunami, hosted by Chrys Shea, Shea Engineering
• Women's Leadership Program Connection Reception (5 – 6 p.m.)
Speaker Bios:
Irene Sterian
Acting Chief Technology Officer, NGM Canada
President & CEO, ReMAP
Director, Technology and Innovation, Celestica
Irene Sterian is the architect and President & CEO of ReMAP. A successful engineering executive and graduate of Industrial Engineering, University of Toronto, Irene has demonstrated both incredible creative vision and the ability to forge successful large-scale, cross-sector partnerships.
Irene's work has resulted in unprecedented investments in Canadian electronics research and support for start-ups ranging from healthcare, energy, ICT, and aerospace. Her leadership in technology and strategic partnerships are driven by a passion to close Canada's commercialization gap and increase competitive advantage on the world stage.
As the architect of this $25M+ Business-Led Networks of Centres of Excellence, Irene has formed an integrated ecosystem to accelerate the commercialization of Canadian innovations to compete on the global stage. Irene was recently appointed acting Chief Technology Officer of the Next Generation Manufacturing (NGM) Canada Supercluster, dedicated to building the next generation of manufacturing capabilities in Canada. Irene is cross appointed as the Director of Technology and Innovation at Celestica Inc. and leads a team of senior engineers.
Irene has over 30 years' experience in engineering, management and innovation in environmentally safe and sustainable technologies. Irene holds a patent in high-density package design, and has published over 30 papers, articles, and industry publications. Irene is a sought-after speaker on a wide range of topics including automation and the future of work, smart manufacturing, alternative energy, technology convergence and electronics innovations. Irene Sterian is a Singularity University alumni and the 2017 Singularity University Canada, Global Impact Challenge executive sponsor.
Irene was recently named one of Canada's Inspiring 50 in 2018. Inspiring 50 recognizes exceptional Canadian female role models for their contribution to the Canadian tech and innovation sector. As a finalist from over 400 nominated leaders in STEM, Irene's passion for advancing science, tech, engineering, and mathematics serves as an inspiration for women across Canada.
Martin Anselm, Ph.D.
Assistant Professor (Rochester Institute of Technology, circa 2014)
Director of RIT's Center for Electronics Manufacturing and Assembly (CEMA)
Martin Anselm's research interests include solder joint reliability, microstructure and fracture mechanics. This includes electronics manufacturing and processing to evaluate the interaction behaviors of dissimilar materials in modern electronic manufacturing. Currently, his research includes integrated photonics packaging and reliability assessment of developing packaging strategies. Anselm works with a team of researchers developing photonic chips for the American Institute of Manufacturing (AIM), Integrated Photonics, Test Assembly and Packaging Center (TAP), located in Rochester, NY. Prior to joining RIT, Anselm worked in industry for 13 years as a failure analysis service provider determining root cause and providing corrective action strategies. Anselm serves on the board of directors for the Surface Mount Technology Association since 2013 and has been awarded its Speaker of Distinction honor. Anselm is also head of the SMTA Training Committee and has spearheaded the release of four+ online education modules in the area of surface mount manufacturing. Courses taught: Statics, Strength of Materials, Introduction to Electronics Manufacturing, Advanced Packaging, Global Engineering Experience in Automotive Electronics (Germany)
Workshops taught: Root Cause Failure Analysis, Introduction to SMT, Stencil Printing, Reflow Soldering
He has a Ph.D. in materials science and engineering from State University of New York at Binghamton, a master's in mechanical engineering from Clarkson University, and a bachelor's in physics from State University of New York at Geneseo.
Karyn Ross
Karyn Ross is an internationally acclaimed business consultant, coach and lean practitioner, and coauthor of The Toyota Way to Service Excellence. Karyn comes to the world of business and lean from the world of art. A practicing artist, with an MFA in Sculpture, Karyn helps people rediscover their creativity so that they can generate new ideas based on synthesizing learning from previous experiences. Then she teaches them how to use Toyota Way/lean principles, practices and tools to turn those ideas into the services and products that satisfy clients now and for the future. Focused on service excellence, Karyn works with small, medium and large organizations in sectors as diverse as insurance, financial services, HR, transportation, higher education and manufacturing. A purpose driven consultant, Karyn is passionate both about helping companies create more effective and efficient ways of working so that they – and their customers – flourish, thrive and grow, and about helping people reclaim their innate creativity so that they can solve problems at work, at home, in their communities and in the wider world.
Karyn lives in Naperville, IL, and is owner of Karyn Ross Consulting. She coaches, consults and facilitates workshops all over the world, both in-person and remotely. Her new book, How to Coach for Creativity and Service Excellence: A Workbook for Lean Coaches, will be available in spring/summer 2019.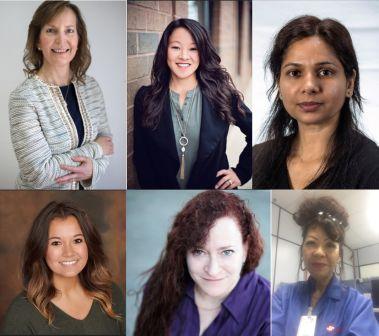 Organizers of the Women's Leadership Program include, clockwise from top left) Marie Cole, Tanya Martin, Priyanka Dobriyal, Karlie Severinson, Elizabeth Benedetto, and Michelle Ogihara.