Details

Written by

Mike Buetow
Benchtop was in and integration was all the rage at the annual North American trade show.
At IPC Apex Expo this year, small was big.

The annual trade show, the largest assembly equipment event of its kind in North America, kicked off in late February to strong crowds and a positive vibe that belied the unseasonable chill in the San Diego air.

A number of products were introduced that will challenge previous designs for market share. Universal Instruments, Panasonic, Europlacer and Fuji were among those with new placement machines. Speedline showed the latest Camelot dispenser and Momentum printer, both of which are smaller than previous models. BTU proudly discussed Dyanmo, a lower wattage, smaller platform for convection reflow soldering. On the test and inspection side, several benchtop analyzers and testers were unveiled by companies big (Agilent, CyberOptics) and small (ASC).

As with last year, sensors and lasers are all the rage. Precision and speed often improve on different curves, and judging by the new machines this year, the current emphasis is more on the former. And many equipment vendors have retooled their offerings for the high mix, high complexity market.

Floor traffic, always the arbiter of a show's success, appeared steady throughout the first day, never overwhelming but always busy and noisy. The second day started slower than the first before picking up in the late afternoon, giving exhibitors more time to dwell on the state of the industry economy. Day 3 was fairly quiet.

Several exhibitors noted that visibility remains clouded for 2013, with those supplying to the automotive sector the noticeable outliers. David Wolff of bare board distributor NCAB noted a change in supply chain practices, saying that OEMs are "absolutely taking control of (bare) boards again."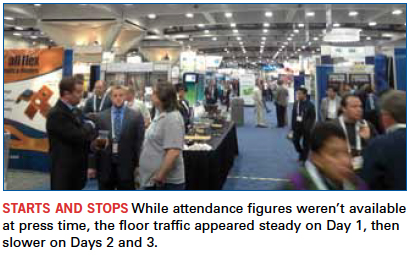 Software

Aegis very proudly rolled out FactoryLogix, a software suite aimed at coordinating the entire manufacturing enterprise outside of accounting and R&D, including box build and system integration. The new suite tracks NPI progress, and can be adapted to individual manufacturing sites around the world. It also handles mechanical CAD as well as EDA. And, it's configurable, but doesn't require programming. As president Shaun Black explained, "We wanted to get the customer integration costs – such as coding – out, and the configuration in."

Printing/Dispensing

PVA rolled out the VPX-2K 2-component dispensing pump.

Speedline's Momentum Compact printer shrinks the footprint of the previous generation. And its new Camalot Prodigy has a narrower footprint but loses none of the functionality, boasting a 30µm accuracy at full system speed, and coming in single or dual lane versions.

DEK refined its VectorGuard stencil, increasing the tension some 45% to make it easier to print 01005 components.

Asymtek is adding a UV curing oven that features an arc lamp instead of microwave as a heat source.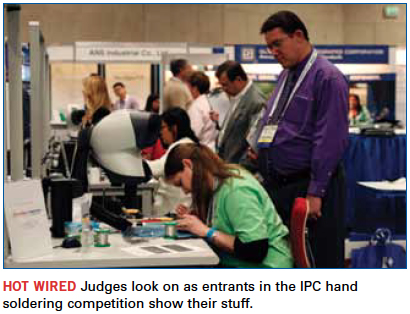 Placement

Universal's Fuzion was likely the most talked-about new placement platform. It features two head types with overlapping component capability, meaning engineers won't need to change out the heads. It supports up to 144 feeders, which is a big jump in capacity, and reportedly has a changeover time of 15 to 20 minutes. The IPC-9850 rate is up to 30,000 cph, and the component range is 01005 to 150 x 150mm, depending on which machine is used. All in all, a very flexible new mounter has arrived.

Panasonic also had an interesting development with the AM100, a single head (single beam) mounter capable of placing components ranging from 0402mm to 120 x 90 x 28mm, large connectors, odd-shaped parts, and advanced packaging types such as PoP. It also featured non-stop changeover, allowing the next product to be prepped while production is running.

Hitachi's Sigma F8 was another machine that is forcing a lot of functionality (four 15-nozzle heads) into a smallish (1,280 x 2,240mm) footprint.

It wasn't all just surface mount. Panasonic debuted the AV123 axial inserter, which features 30,000 cph performance on a small (there's that word again) platform.

Juki's Bob Black indicated a new JM series would be out in June. Juki also happily accepted GKG's 2012 Distributor of the Year award.

Siplace and Panasonic joined Universal as placement companies indicating growth in 2012.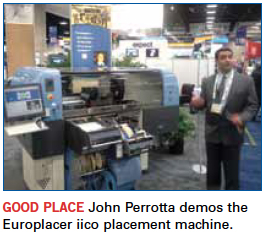 Soldering/Materials

ECD has a new sensor-based system that aggregates humidity data from up to 25 points in the factory and consolidates it in a mobile app. FCT Assembly discussed NanoSlic, a cylane molecule-based nanocoated stencil said to retain the coating longer than phosphorus-based versions. (Expect to see more cylane-based flavors as the second-generation nanocoats appear.) It's due for release in June. Count DEK among those that expect to see more coatings introduced, reporting "great results" by customers.

BTU's Dynamo could be a game changer. (We say "could," because the machine won't be shown until April.) It's a new convection reflow platform with 8, 10 or 12 zones, capable of running air or nitrogen, but with 20 to 25% less energy use than its Pyramax cousin. BTU cut the energy by reducing the number of blower motors in the heater section, instead placing one outside the chamber where it can handle two zones at once.

Finetech showed a slick tool for reworking package-on-package and QFNs.

It's been awhile since solder material companies used a trade show to roll out new products. Instead, they leverage the events to formally announce products that were developed for specific applications or customers, in some cases, months or years earlier. Apex was the first show we saw Enthone and Alpha under their new corporate banner, Alent. There was one revelation, however: Henkel is rebranding its surface mount materials under the Loctite name.

Finally, the IPC-A-610 meeting drew 74 attendees, a big number even for the IPC's largest task group. Of some concern, it appears the solder types have been removed from the latest J-STD-006, rendering the document as a listing of solder alloys, but not much more.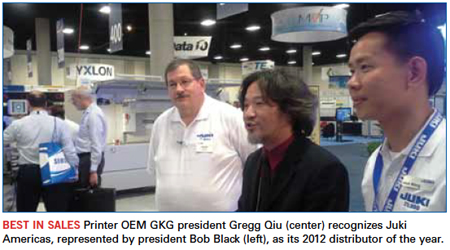 Test/Inspection

As users grapple with smaller products and tighter test access, the test strategy is inherently changing. Boundary scan is becoming more prevalent, as is BIST for chip-to-chip communication.

CyberOptics, ASC (AP500, a fully automatic benchtop 3D SPI), and Newly (n=1 first-article inspection, plus board resistance and capacitance checks) were among those pushing smaller footprints.

Koh Young has a deal with KIC to jointly develop a tracking system to report profile and joint data, which then will be displayed in Koh Young's pre- and post-reflow results.

Mirtec's switch to CoaxPress cameras boosted the speed of its MV-9 series, which includes all LED and 2D/3D AOI, to 25 GB/sec., up from 5 GB/sec.

Nordson Dage has a new, undisclosed platform due out at Nepcon China.

Fabrication

We wish there was more to discuss on the fab side. As noted in past years, the Asian-based trade shows (JPCA, CPCA, HKPCA) are the top sites for developments in printed circuit board fabrication. There were, however, a couple of developments that caught our eye.

Remember the ESI mechanical drill team? They are regrouping at Interdyne, and the early results are impressive. Consider a granite base, six-head mechanical drill with a so-called laminated "wing" that moves in the Y axis while the spindles move in the X. The linear motors are tied directly to the 250km spindles. The new drill uses standard bits and reportedly is capable of 2 mil holes at a rate of 1000 hits/min., and can drill a 441 mil backpanel with 90 mil thick copper at 110 hits/min. When did the last new drill technology come out?

Also, Rainbow Technology discussed its automated vertical develop/etch/strip line, which runs on 4kW of power, has full automatic handling, and requires no solvents. The throughput is 90 panels/hr., and beta testing begins this year.

As always, the show is too large to detail every new development here. For the full list of new assembly products and materials, go to http://www.circuitsassembly.com/cms/ipc2013.

For fabrication-related products and materials, go to http://www.pcdandf.com/cms/ipc2013.

While Apex likely remains second to Productronica as a site for assembly equipment launches (its fabrication-based Expo half has long since ceded that designation), we did note more than a few exhibitors reporting they were holding launches until Nepcon China in late April. Outliers or the start of a trend? It's something to watch.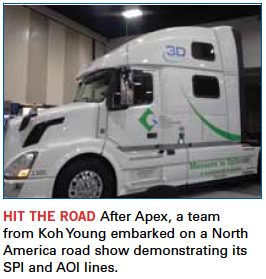 High Hopes for 2013 NPI Winners

The annual Apex trade show represents the honorary start to the new year. It's also an end of sorts: the culmination of the rookie year for products introduced at the previous Apex.

Each year at Apex, PCD&F and CIRCUITS ASSEMBLY announce winners of the New Product Introduction Awards. The NPI Awards recognizes leading new products during the past 12 months. An independent panel of practicing industry engineers selects the recipients.

This year's electronics assembly equipment, materials and software winners are Microscan (Mini Hawk Xi); Speedprint (SP710avi); Count On Tools (ezLOAD PCB Support System); Austin American Technology (NanoJet Aqueous Inline Cleaner); BPM Microsystems (2800ISP In-System Device Programmer); Nordson Asymtek (NexJet); Mirtec (MV-9 2D/3D In-Line AOI Series); Acculogic (Ultimate Accuracy Package for Flying Scorpion); Multitest (InStrip 3D); VJ Electronix (Vertex II X-Ray Inspection System); Parmi (SPI HS70); Nihon Superior (SN100C P604 D4 Solder Paste); Count On Tools (Stripfeeder .mod Series); Universal Instruments (FuzionXC2-37); Rehm Thermal Systems (Vision XP 934 Quad Lane Convection Reflow Oven); ACE Production Technologies (KISS-205 Selective Soldering); Kyzen (Aquanox A4639 Aqueous Solution); Cogiscan (TTC Middleware); Viscom (SPI-AOI Uplink); EVS International (EVS 10K Solder Recovery); FCT Assembly (NanoCoat Multilayer System); Air Vac Engineering (PCBRM100); AIM (NC277 Liquid Flux), and CGI Americas (Newly n=1 First Article Inspection System).

The winners of the PCD&F NPI Awards for PCB fabrication are Nordson March (FlexVIA Plasma System); Rogers (RO4835 Laminate), and Dow Electronic Materials (Microfill THF-100 Electrolytic Copper).

"Each year there's a few true, exciting innovations," said Mike Buetow, editor in chief of PCD&F and Circuits Assembly. "We are thrilled to recognize
these companies for their efforts."

Mack, ESI, Naprotek 2013 SEA Big Winners

CIRCUITS ASSEMBLY on Feb. 19 announced the winners of its 2013 Service Excellence Awards for EMS providers and electronics assembly equipment, materials and software suppliers. Circuits Assembly recognized companies that received the highest customer service ratings, as judged by their own customers, during a ceremony at the IPC Apex Expo trade show.

In the EMS category, the overall winners were Mack Technologies (sales of $101 million to $500 million), Electronic Systems Inc. (sales of $20 million to $100 million), and Naprotek (sales under $20 million).

The EMS companies with the highest scores in each of five individual service categories also received awards. (Overall winners were excluded from winning individual categories.) In the small-company category, ACD, Spectrum Assembly, and NexLogic Technologies tied for dependability. ACD also won for quality, and tied Pride Industries, Spectrum Assembly, and BESTProto for responsiveness. BESTProto and ACD tied for technology, while Pride Industries took home the award for value.
For firms with revenue between $20 million and $100 million, Western Electronics took top honors for dependability and responsiveness. Applied Technical Services tied Sparton Electronics for value. Western Electronics and Applied Technical Services shared the top spots for quality and technology. 

For EMS companies with revenue between $101 million and $500 million, EPIC Technologies swept all five individual categories.

Electronics assembly equipment award winners were Assembléon for pick-and-place; Speedprint Technology for screen printing; Kyzen for cleaning/processing materials; Mirtec for test and inspection; Nordson EFD for materials; Nordson Asymtek for dispensing, and KIC for soldering equipment. Customers of SEA participants rated each company on a scale of 1 (poor) to 5 (superior) in five service categories. – CD
Mike Buetow is editor in chief of PCD&F and CIRCUITS ASSEMBLY; mbuetow@upmediagroup.com.